Q&A
By Lee Martindale on Tuesday, July 26 2022, 11:37 - Behind the Scenes - Permalink
From time to time, I get questions from readers and fans about my works, including the anthologies I've edited.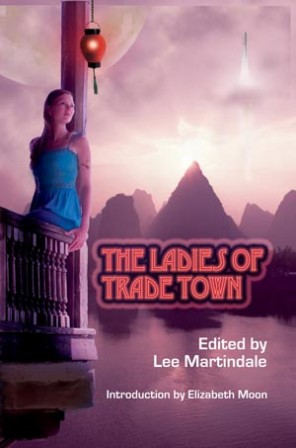 Q: The Ladies of Trade Town is a themed anthology about prostitution. Did you catch heat about such a controversial subject?
Lee: First, a small correction. It's a themed anthology about people who sell services that some consider controversial. And, yes, I did catch some heat, but not nearly as much as I expected. Before any of the stories that would be selected were even in my hands, I got a few letters condemning the anthology as "an abomination" and "immoral" and I'll leave it to your imagination to what they called me. A few raged at me for being "an exploiter of women" and "misogynstic". I note every one of the latter group apparently assumed I was male, since they were addressed to Mr. Martindale.
One of the things I do when writing submission guidelines is to give information on the kind of stories I want and don't want. For Trade Town, I was looking for science fiction, fantasy, and related-genre stories that expanded the concept of what was being bought and sold, who was doing the buying and selling, and how that translated to the time, place, and society of the setting of the story. What I wasn't looking for was porn or erotica, which – given the theme - apparently threw some writers a bit of a curve. A few wrote me saying that it was impossible to address the theme without one of those elements. Happily, a lot of good writers – those who made the cut and many who didn't, figured out that it was, indeed, possible.
Q: Where can readers find The Ladies of Trade Town?
Lee: My online bookstore, HarpHaven Merchanter, carries our full catalog, including the trade paperback edition of Trade Town. Readers can order it signed by me, and can have it personalized to themselves or to the recipient if it's a gift, at no additional charge. Shipping is free.
Readers who prefer ebooks can find it at Amazon
https://www.amazon.com/s?k=%22The+L...
and Barnes and Noble
https://www.barnesandnoble.com/w/la...
Amazon.com also has the trade paperback available.